According to the ONS, over 70,000 weddings across the UK have been cancelled during the lock down restrictions. Each of these is an unbelievable loss to the couple and their families.
None of us know what goes on behind closed doors and the particular circumstances of couples, so I am not here to give advice that will fit all circumstances.
What I can do is give you some tips that may help some of you. Tips that may enlighten to some of you about choice. Tips that may open doors that you didn't even realise were there.
Firstly, Covid restrictions are fluid, they are changing weekly and will most probably continue to do so for some time to come. What is viable today, may not be so, in two weeks so always always check current guidelines to protect yourselves and those around you.

Also, I am not trying to impose anything on you, many couples have a dream and the thought of making changes is horribly traumatic. So if you want to postpone your big day until it can go ahead as you always envisioned it, then that's ok! Do what us right for you as a couple.
You can have a ceremony and complete legal admin later!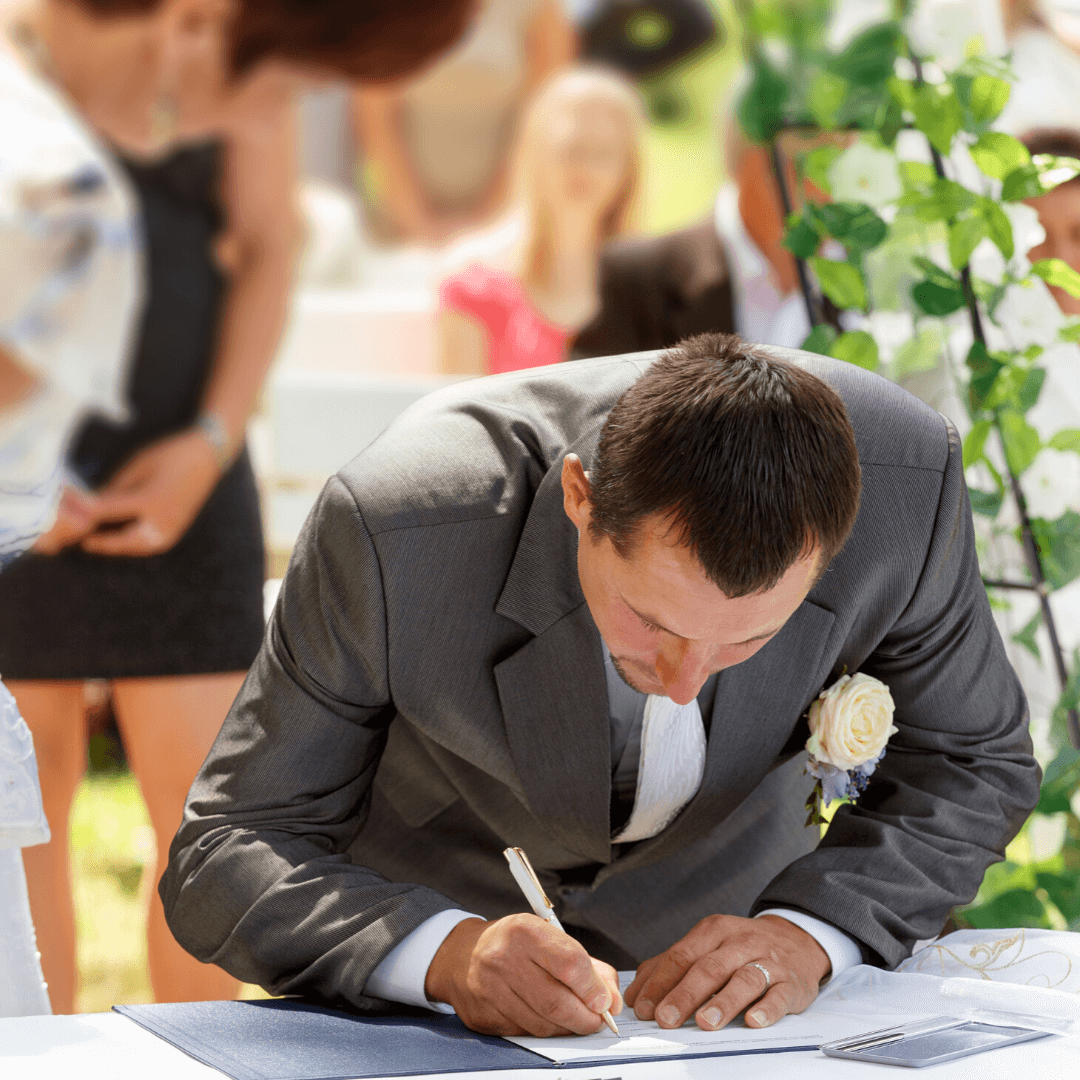 This is what celebrants do, and tens of thousands of couples got wed in this way last year alone.
Just as people don't celebrate their birthday on the day they registered their birth, couples do not have to celebrate their wedding anniversary on the day they collect their marriage certificate from the registrar. Your wedding day is the day you share your vows with your soul mate. You have to remember however before making short notice plans, to check how many people can get together at anyone time in your area.
Knowing you can seperate your wedding from legal admin is important to note. Registry offices will not be running at capacity for months if not a lot longer to come. They are not only trying to catch up on birth and death registrations but they are trying to also catch up with the thousands of marriages that have thus far been postponed, and many registry offices are running below capacity staff wise.
This means there is a knock on effect with the possibility of wedding disruptions running well into next year, and this is without considering the possibility of a second wave of the pandemic. Therefore if you can get your friends and family (numbers within guidelines) in one place, and can socially distance, then there is no reason that you cant arrange your wedding day quickly.
2. Wedding can be created at short notice.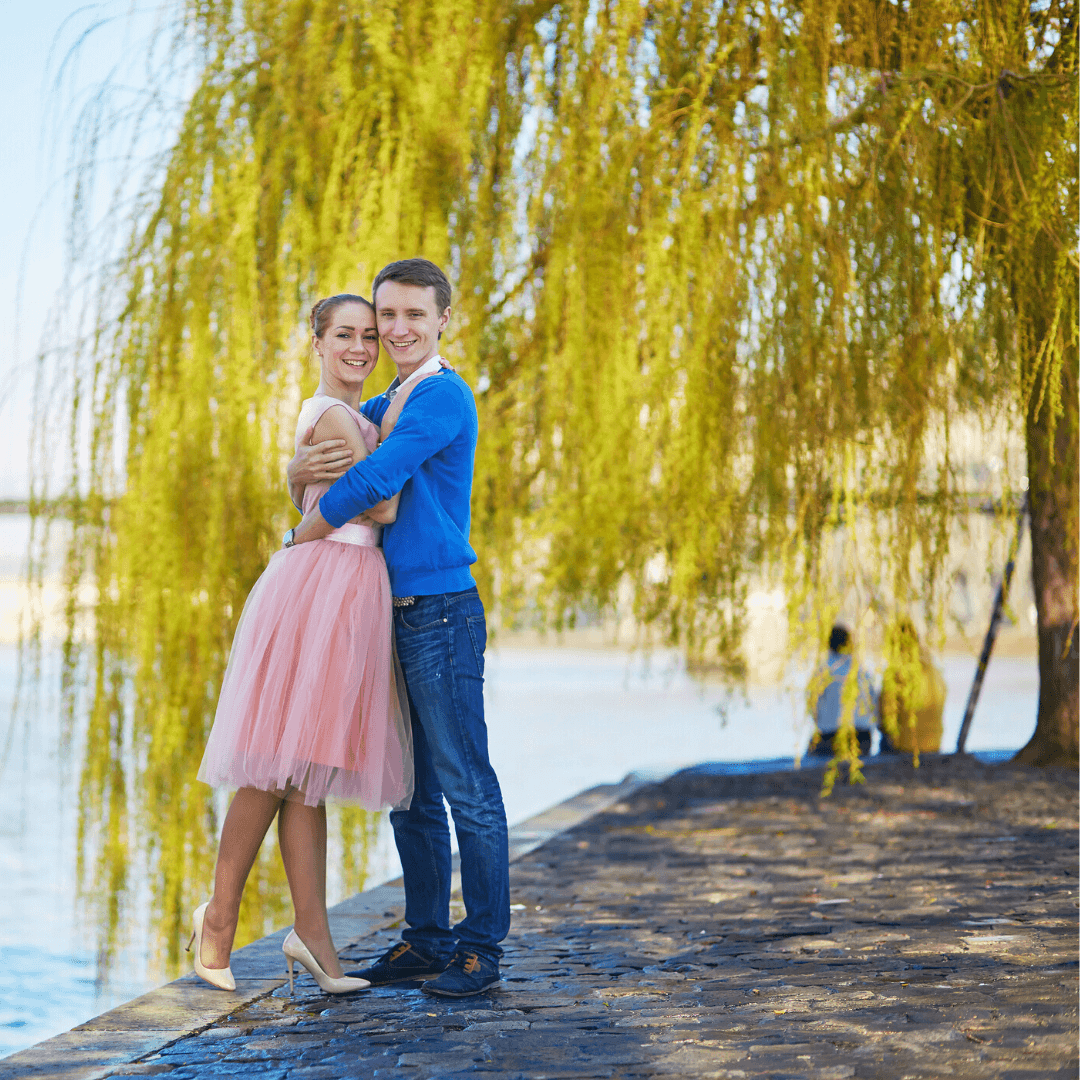 In WWII weddings were often created and conducted very quickly, before the groom was spirited off to war not knowing when or if he may return. Many people liken the situation we are in today as being at war and so it makes sense we have the same mentality in some ways. AT present we may need to be flexible with out plans and create more contingency than ever before.
Large and elaborate weddings often take years to arrange, and this itself becomes part of the problem. Couples book so long in advance, it makes it almost impossible to book venues and other services short notice. Many of us celebrants already have bookings into 2022. However, at present, many wedding services have had to cancel this years current weddings, or postpone them to next year. This means that at this time, many companies will be able to help you out at short notice IF you are willing to be adaptable.
Many of us have gone from having booked diaries to having slots in the next few months, whereas next year will be one of the busiest on record.
3. Be imaginative with your venue. Big HINT Think about outside!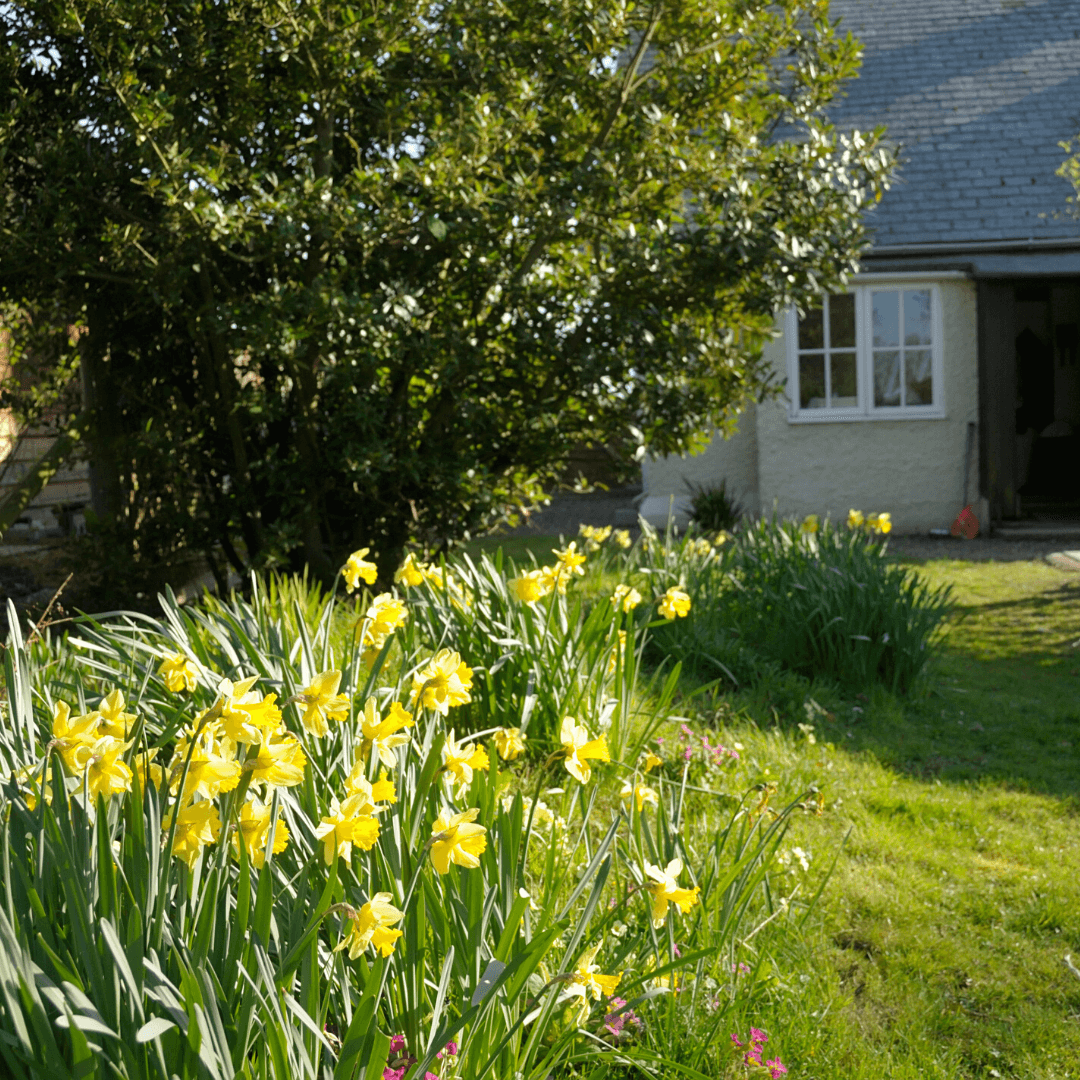 You do not have to have a massive garden, a luxurious outside space or a mansion to have an amazing garden ceremony. Whether you have a walled yard, or a cottage garden you can create magic with a few rolls of tulle, fairy lights and cut flowers. Please consider the social distancing rules! Ensure you have enough space for at least two metres between your guests. Even though many of your guests will live together and will not have to distance from each other, they should be allowed to distance from other families, you the couple and from me the celebrant.
Some of the most beautiful ceremonies I have attended have been garden or outdoor ceremonies. If you are thinking it will look cheap, or somehow less, you couldn't be more wrong. Look at Amazon or Ebay for decor. You can also use a large gazebo. Those that have a roof with no walls are perfect in a small space as the natural boundaries of garden fences cut out the wind, whilst the roof holds off rain. This way you can have natural ventilation whilst being protected from the elements!
If your are daunted by the idea of decorating your garden, ask an events company to do it for you. They can supply a gazebo, they can decorate whilst you are not in the vicinity. They can come and take it away at the end. Events companies are not only available for massive functions. Every year we used to have a table and chairs delivered at Christmas as don't own or have space for a dining table and chairs to be up all year. We also used to hire table wear and glasses as there was no point in us having to have these items stored away for the once or twice a year we used them. It is very affordable!
4. The law says no receptions!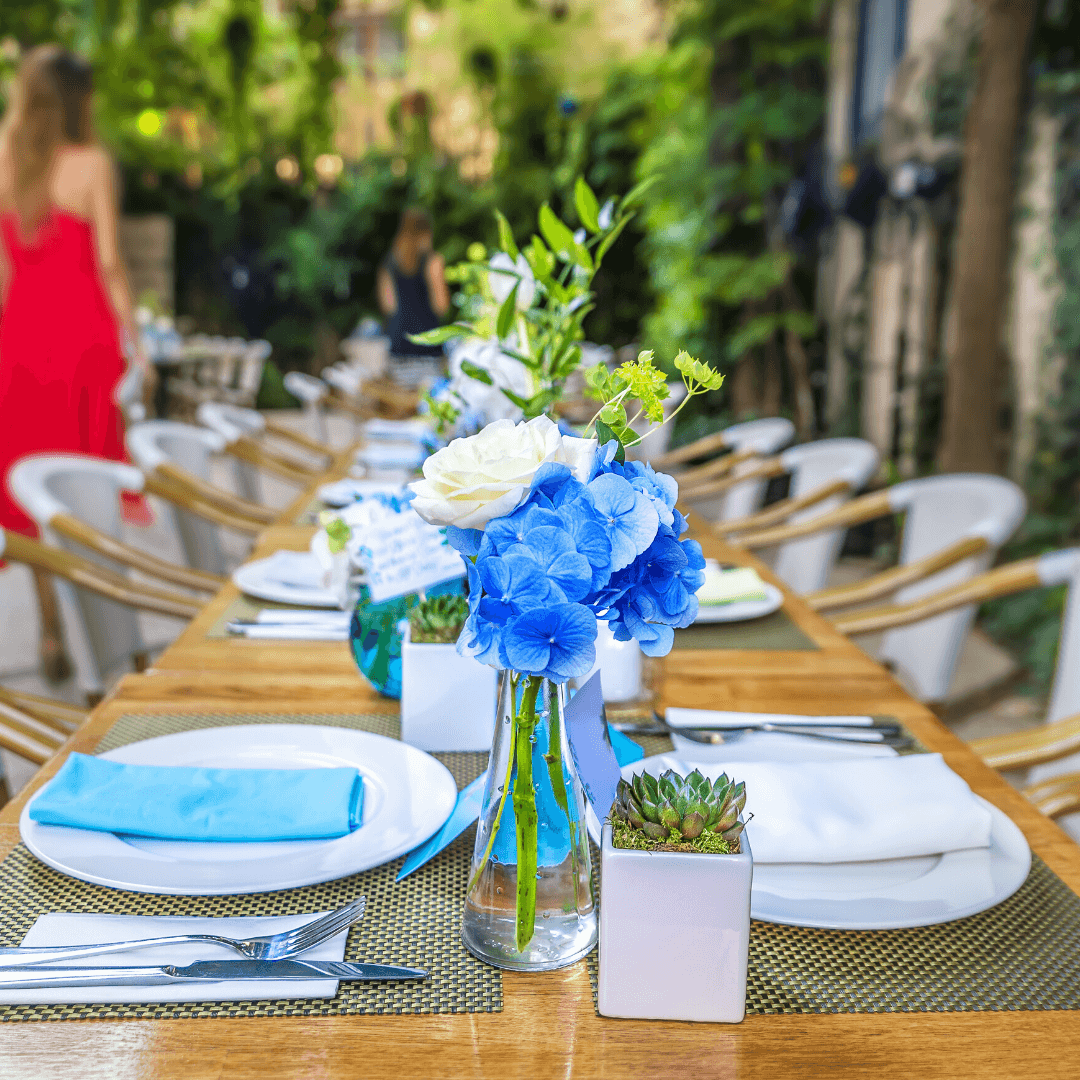 Yes, and the regulations are put in place to protect us. But the law does say we can gather in family groups and can also get together with other 'bubbles' (check your current and local restrictions) Therefore, a socially distanced family get together can be held within guidelines. Remember if you are hankering after your wedding with 300+ guests then these tips are not for you! You will get your day, but you will have to be patient a while longer. This is aimed at those for whom the small intimate wedding is perfect and those who are prepared to wait for a larger party when allowed.
I am going to refrain from using the word reception, it is not allowed, but if you have your intimate ceremony, with a few friends and family then you should be also OK to have a meal with them. As long as all social distancing rules are adhered to as with all get togethers with family and friends. There is no restriction on the delivery of food. Approach your local favourite restaurant and ask the if they can prepare your meal for delivery! Please believe me, restaurants are desperate for business right now, and many are already running a delivery / takeaway service. Ensure social distancing takes place. Whilst i have shown a table above, you could instead have tables for family groups dotted around your garden! (Remember we are talking small numbers anyway)
5. So, the last tip - the most important of all is to Enjoy your celebration.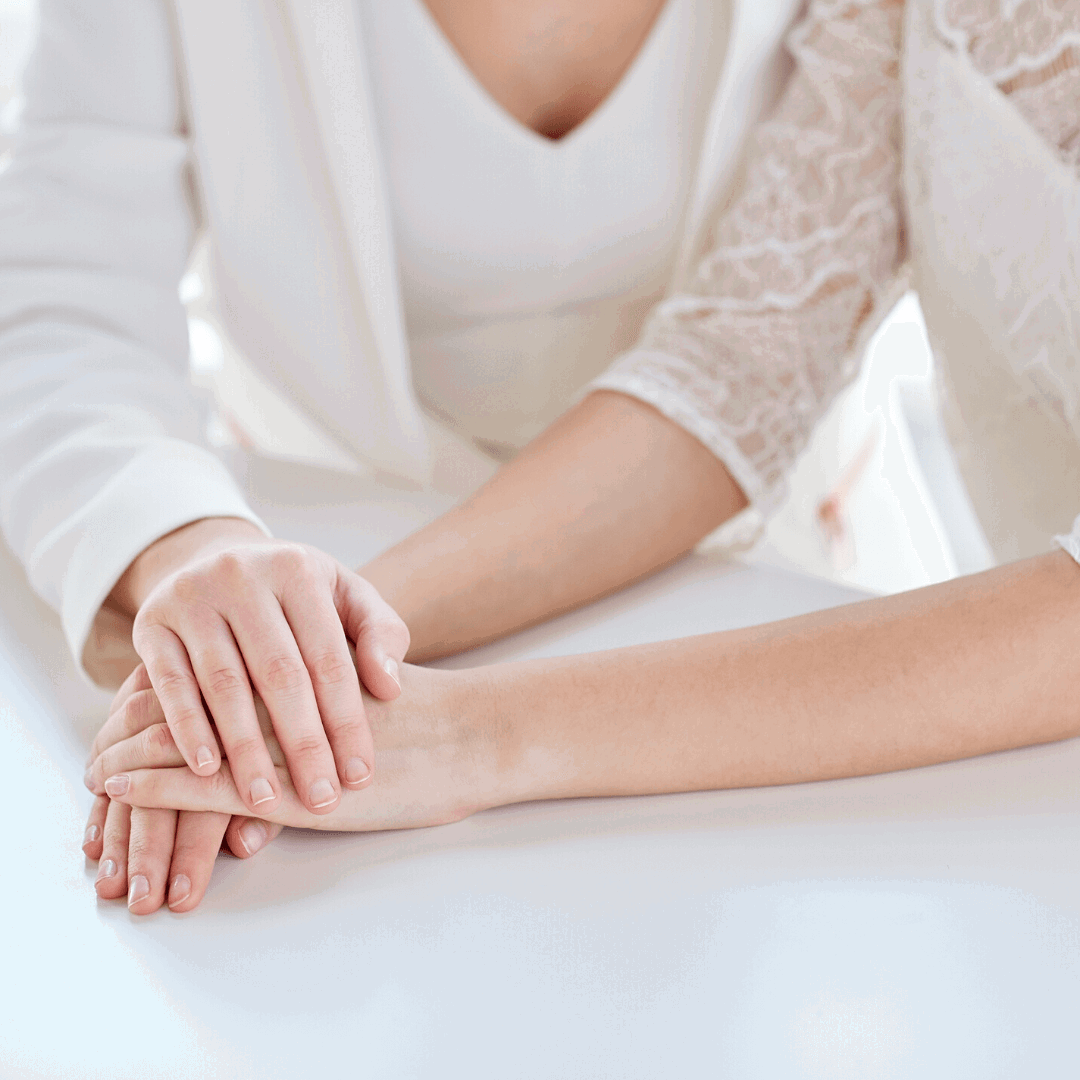 A celebrant wedding is a joy to behold. whilst we often work with couples for many many months, if you work with us quickly, we can get enough information to write your beautiful bespoke ceremony in a fraction of the time. For Celebrants and for those couples who book us, wedding ceremonies are about the couple. The ceremony is the heart of the wedding and at the heart of the ceremony lies the couples story. A story that is told within vows, withing poetry and within readings. Whether you have 6 people or 300, your wedding should always be about you. Your ceremony should always fill your hearts with joy and give you happy memories for years to come. Covid -19 can not take that from you! Oh, and don't forget to set your camera up on a tripod, capture your ceremony, record or stream live to all of those who can share from afar!

Next year, who knows what will be here, maybe the dreaded second wave, or maybe a new normality. Hopefully you will be able to celebrate your anniversary with a party for everyone who would have been invited to your wedding. Time for large and receptions will come!