Congratulations on your engagement. This is such an exciting time for you both. Whatever your timeline, it is so important to enjoy the journey.
So, you have a wedding to plan? A task that can be daunting. But one piece of advice I give all my couples. "This day is about you! "
That's probably one of the reasons you are looking for an independent celebrant.
We specialise in weddings, in making the wedding ceremony unique. It should always tell your love story, a story that has brought you to this point.
Wherever you wish to get wed, whether it is a garden, a hotel or a somewhere that is uniquely special to you. As long as you have permission, we will create the most beautiful and memorable ceremony for you.
With a celebrant led wedding you get your choice of poems and readings, songs or hymns. We can add in traditional or spiritual unity elements. Whatever you choose to enhance your day.
You will never go to another wedding like yours because it is tailored for the two of you alone.
Ring or email me if you would like to chat about how I can help to create your perfect day. I look forward to hearing from you and would be delighted to help you plan the day of your dreams.
Fee Information:
All of my ceremonies are bespoke, written for my unique couples from scratch, using information gleaned from the comprehensive questionnaires you are asked to complete, from conversations we have, and from my own research. I do not cut corners on the ceremony and reuse past ceremonies, everything is done from scratch.
All my basic ceremonies take approximately 20+ hrs to research and write. Scripts for Unity ceremonies are all written from scratch to fit in with your theme and take further 1-2 hrs including research. There is a huge amount of work celebrants do behind the scenes to make your ceremony the most amazing day in your lives.
All of my ceremonies include a copy of the ceremony and 'stage direction' for your wedding planner, videographer and photographer if using them, so they know the running order of the ceremony.
Please see Terms for all other necessary information
Package Details:
My wedding package is inclusive of all below.
Telephone meeting to discuss your dream ceremony.
A comprehensive contract and booking information with timetable to show you exactly what to expect and when.
A comprehensive questionnaire to be filled out independently by the each of the couple.
I will contact you to ask you to choose and finalise those choices for readings, music and other necessary elements that make your beautiful ceremony come together.
A beautifully written ceremony script that is created from scratch. Your ceremony represents you both and the journey that has brought you to your special day.
A verbal run through of your ceremony over the phone, 6 weeks before your ceremony. If you wish to meet for a run through, this is of course possible at an extra cost. The price will be dependant on your location.
The beautiful presentation by of your ceremony by myself on your big day.
A presentation copy of your wedding ceremony, this is given to you on the day of your ceremony.
If you would like to add any extra 'mini ceremonies' or unity ceremonies. You can find details of these here. Remember this is your day, so whatever you want, we can make it happen.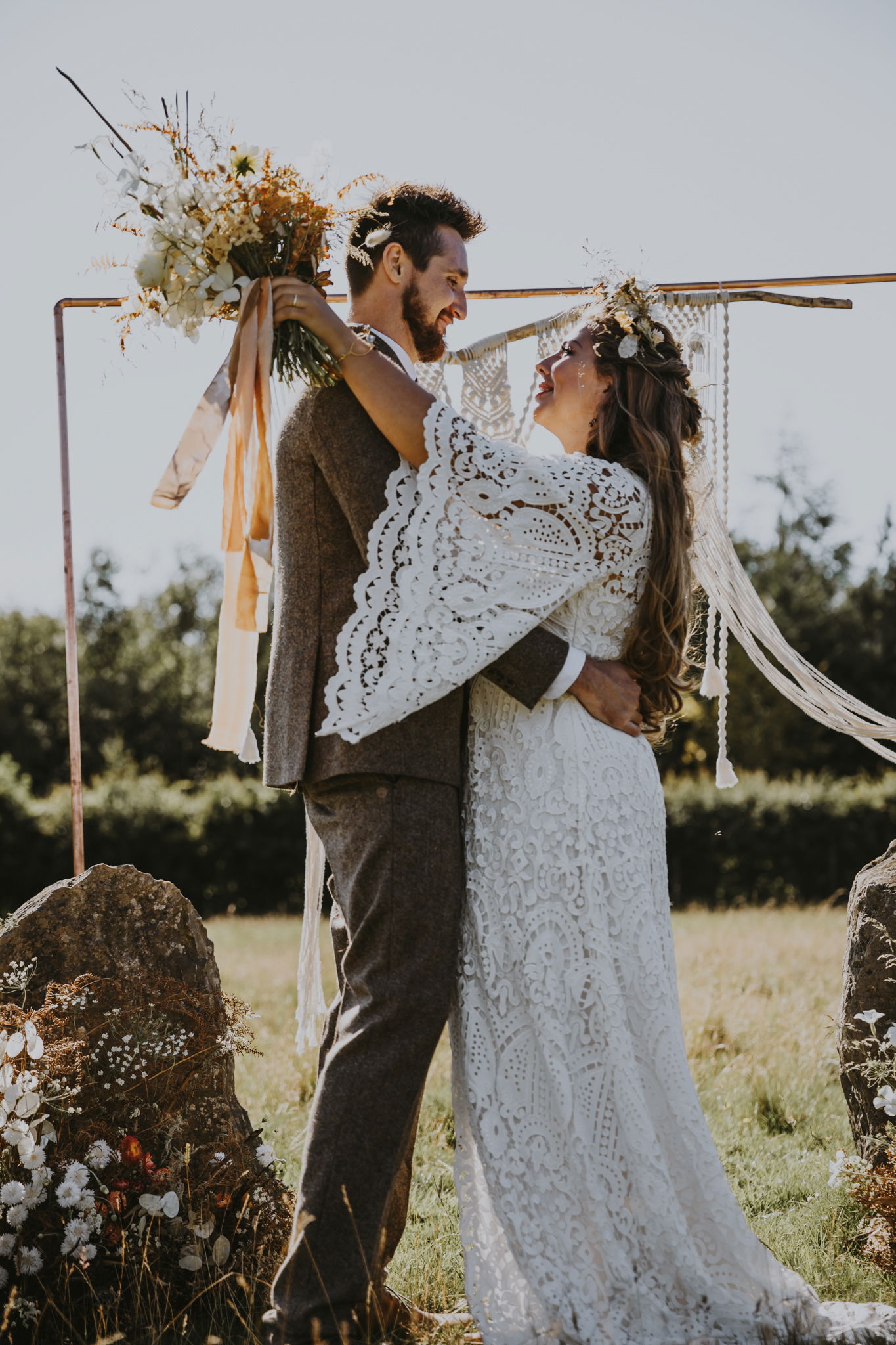 Photograph by Jem Hicks 2020